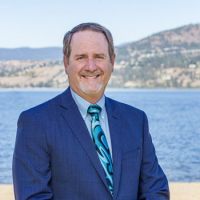 Photo: Nicholas Johansen (From Castanet)
A celebration was held Saturday for the unveiling of a new sign honouring Kelowna's Chinatown. An important part of Kelowna's often-overlooked history is now on display at the entrance to City Park. An unveiling celebration was held Saturday morning for a new sign, outlining the city's historic Chinatown and the contributions Chinese-Canadians have made to Kelowna.
One of the speakers at Saturday's event was Tun Wong, a longtime Kelowna resident who was born in Chinatown, which used to be enclosed by Harvey and Leon avenues and Abbott and Water Streets. Wong's mother, who was born in China, moved to Kelowna as a child in 1929 and raised Wong and his 10 siblings in Chinatown. "I've tried for years to try and get a plaque or a sign to designate Kelowna's Chinatown to honour its past residents and the sufferings they went through," Wong said Saturday. "This sign has far exceeded what I ever had in mind." The last of the buildings in Kelowna's Chinatown were demolished in the 1970s, but the new sign will preserve this history for generations to come.
The sign was designed by Arthur Lo, a retired Kelowna art teacher who sketched the design in 30 minutes during an Okanagan Chinese Canadian Association meeting in 2015.
After two years of planning, the sign was finally installed Friday.
The $32,000 sign was funded in equal parts by the Okanagan Chinese Canadian Association, the City of Kelowna through the federal government's Canada 150 grant and the Central Okanagan Foundation.